Over the last couple of weeks I've been exploring the benefits of displaying art in your interiors, from the modern gallery wall, through to layering and leaning art and finally the power of big and bold art! There is no doubt that displaying art in your home is the perfect way to inject some personality into your interiors!
The perfect piece of art should be something you love, something that speaks to you, makes you feel something and that represents your tastes...
There is a difference between the sort of art that you'd go to a gallery to see, the sort of thought provoking and intriguing art that can make you feel uneasy and curious....and the art you display in your home:
Art in your home should be part of your interior in some kind of harmonious way.
It should relate to your surroundings as well as to you, both in size, colors and motif...and in the way you display it!
But of course a little intrigue is always good...
But let's face it: Art can be expensive....especially large scale art!
...and as much as I'd like to curate a collection of beautiful art that I love for my home, unfortunately the moths in my wallet is not considered legit payment in any part of the world, as far as I know...
So when I decided I wanted a big piece of art for my living room, I DIY'd my own: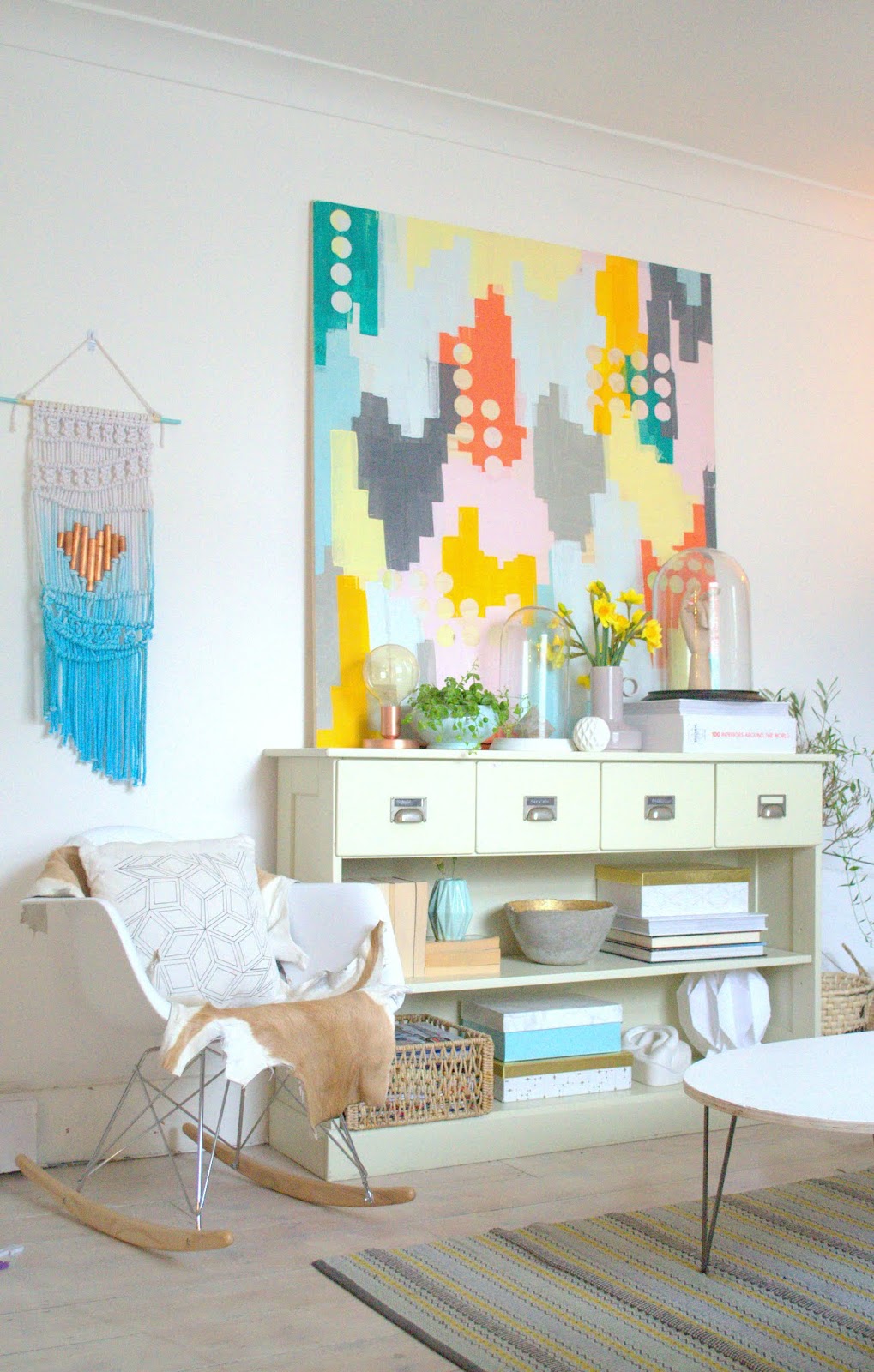 Although I've studied art, and am probably quite an artistic person, I don't consider my self a painterly artist....and I truly believe that
anyone
can create a piece of art they will love!
I have 3 tips for anyone feeling less than confident, but want to have a go:
Keep it simple, abstract and go BIG!
...And use colors YOU love!
(Actually that was 4....but who's counting??)
So today I am sharing some tutorials on how to DIY some art for your home from the www. that I love!
They are all simple, easy to adapt to your own tastes and to make....but will look fantastic and add that artistic flair to your home!
You can see how I made the big abstract artwork for my living room, pictured above over at Room Design...it's really easy, I promise!
Or how about this Black and white abstract painting? Kristin from Bliss at home even got her two sons involved with making this, it's that easy....but striking no?
I love the textures with the gold leaf in this abstract artwork that Julia from Cuckoo 4 design made. The artwork in her tutorial is not that big, but the technique and look lends itself very well to creating a huge statement piece!
Image from making lemonade
Carrie from Making Lemonade simply framed some gorgeous marbled paper to make this art for her walls. You can purchase it here. Marbling is very trendy and stunningly decorative in an abstract way, and why not try to DIY your own?
There are lots of tutorials online on marbeling , using different techniques...I would like to try marbeling some fabric to stretch onto a canvas, or using spray paints, like the fabulously artistic, Alisa Burke did here.
Watch this space;)
It just doesn't get simpler than this....but Tanya from Dans le townhouse has created a very striking piece of art, that can easily be made as huge as you'd like!
If you are a pattern lover, how about making a wall hanging, using a favorite fabric, or drawing out a pattern on some canvas like I did when I made my tribal wall rug, above.
Lastly I just wanted to give another mention to all round creative genius, Alisa Burke.
Her blog is one of my go-to's when I need some inspiration, and you may find her tips and tricks for painting large useful...it has some great advice on both techniques and material....and some budget busting tricks as well!
Are you ready to get the paint brushes out and get creative?
Do you feel inspired to inject some truly personal and BIG art in to your interiors?
More than just being a budget friendly option if you'd like to add some BIG art in your home, making it yourself has loads of added benefits:
You can make it to the exact size you want/need, in the exact colors you love, creating a truly custom piece that will fit perfectly in your interior!
And of course, art doesn't get more personal that this:
It doesn't matter if you are following a tutorial on the net, or even hacking a great, but un-affordable piece of art you've seen (Disclaimer: I don't endorse ripping off artists work for commercial gain, but taking inspiration from and making similar art for your own enjoyment is ok ;))....the expression in your efforts will always be slightly different to your inspiration, and your choice of colors and technique (Or lack of ;)) will add a personal touch to the artwork...
And what a statement to make in your home!!
A big piece of DIY art will definitely wow your guests and be a true conversation starter...
....and who knows: You might just find your new passion: I find it incredibly soothing to play around with paint and colors, and revel in the process!
If you need some more inspiration, please check out my pinterest board ART for loads of inspiring artful pins.
And I will be back this weekend with a tutorial on how to make your very own BIG graphic poster!